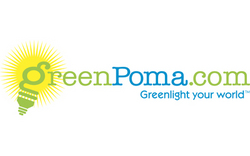 Concord, NH (PRWEB) June 1, 2009
GreenPoma.com, an online retailer of premium, energy-efficient light bulbs is pleased to announce that it is expanding its lineup of low energy halogen lamps to include energy-saving chandelier light bulbs. Philips Halogena(R) Energy Advantage bulbs use less electricity while maintaining a bright, crisp, white light.
"While it's common for homeowners to think of compact fluorescent lamps (CFLs) when seeking to reduce their lighting electricity use, it's hard to find super-compact CFLs to fit some chandeliers and wall sconces," says Suzanne Ellinwood, Co-owner of GreenPoma.com. "We've been impressed with Philips' energy-saving chandelier light bulbs, which have raised the bar on the energy-efficiency of traditional halogen bulbs without trading off their pleasing light quality and superb dimmability."
The new 25 watt "fiesta" shape energy-saving chandelier light bulbs have a clear glass bulb, are just over 4 inches long and have either medium or candelabra bases. They are 38% more efficient than the 40 watt incandescent lamps they are designed to replace and contain no mercury.
"We're always on the lookout for great, greener, more energy-efficient light bulbs for our customers," Ellinwood says. "We like these environmentally-friendly bulbs so much that we've integrated them into our Bulb Finder to match customers with the decorative fixtures they want to re-light". For more information on GreenPoma's selection of energy-efficient light bulbs, please visit http://www.GreenPoma.com.
About GreenPoma

GreenPoma was founded on the desire to inform and educate consumers on greener lighting options. Offering a variety of energy efficient lighting alternatives for sale on its website, the company leads the way in the green revolution with hard-to-find bulbs from leading manufacturers, recyclable packaging, reports on dollars and carbon dioxide emissions saved, plus simple, savvy advice generated through its unique Bulb Finder tool. To make a purchase or learn more about GreenPoma, please visit http://www.greenpoma.com.
# # #