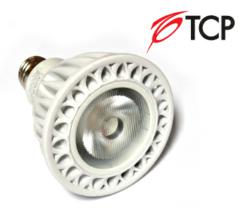 San Diego, CA (PRWEB) April 03, 2012
TopTen USA, a leading source of news on sustainable products, has ranked the PAR30 and PAR38 TCP LED bulbs as the most efficient and highest-quality consumer option on the market. EnvironmentalLights.com, a source of high-quality, energy-efficient LED lighting products, offers these light bulbs for consumers looking to promote sustainability.
The TCP LED PAR38 bulb was ranked #1 out of 67 entries and the TCP LED PAR30 bulb was ranked #1 out of 49 entries. Judging was based on important factors such as energy savings, economics (lifetime cost of light), photometrics (measured light performance), and light appearance.
The TCP PAR30 and PAR38 bulbs use the worlds best LED-chip technology, giving the LEDs the best light output, outstanding energy efficiency and consistent and uniform color. Each bulb also has an LED driver installed inside, that features an integrated chip controller for optimized power management and full feature functionality.
TCP's PAR bulbs combine the brightest LEDs with the best performance on many LED/CFL dimmers. They fit into a standard E26 base, so their uses are endless. These bulbs contain a single light source and a diffusing lens. These LED bulbs are durable due to the research that went into their design as well as the high-quality technology and design construction. This results in less general maintenance required to replace and maintain the bulbs in comparison to incandescent alternatives which decreases the overall operational cost for a business or home.
TCP LED PAR30 Bulb

The dimmable PAR30 light bulb provides bright LEDs and great dimming performance on many standard dimmers. The bulbs are available in both soft white (3,000