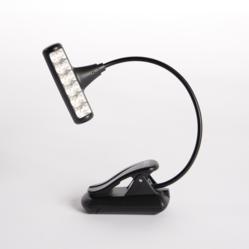 Santa Barbara, CA (PRWEB) January 09, 2012
Mighty Bright, designer and manufacturer of innovative LED lights, will showcase its newest personal LED lights at the 2012 International Consumer Electronics Show, January 10-13, at the Las Vegas Convention Center.
Mighty Brights new lights revolutionize personal illumination by integrating energy-efficient LEDs into a wide selection of compact and portable lights. Uniquely designed for a variety of low-light environments, the new LED lights exemplify Mighty Brights commitment to provide personal lighting solutions that are innovative, functional, and versatile.
At CES 2012, Mighty Bright will debut its newest and most powerful LED lights:


HammerHead: Mighty Brights brightest LED book and personal light yet. The super bright, compact, and durable HammerHead has unlimited illumination capabilities.
eFlex: Streamlined, compact, and constructed to fit all eReaders, the eFlex LED Light casts a brilliant white light across eReaders digital pages.
LUX Dome LED Task Light: A stylish and modern LED task light that is eco-friendly, utilitarian, and embodies refined luxury. The LUX Dome will never require a replacement bulb.
Encore LED Light: Built for musicians of all skill levels, the Encore 6-LED Music Light is a sophisticated yet compact LED light that delivers the perfect performance every time.
Visit Mighty Bright at CES

Dont miss Mighty Bright at CES 2012 booth #36177 located in the Access on the Go TechZone in the South Hall.
About Mighty Bright

Mighty Bright designs and manufactures innovative LED light products to consumers and professionals. Mighty Bright integrates high quality materials and intelligent design with the latest in LED and optical technologies at an affordable price. For more information, contact Mighty Bright: 800.922.3233 / 805.683.9000 or visit http://www.mightybright.com.
###
Find More asd href="http://caseyalt.com/?cat=7″>Led Bulbs Press Releases