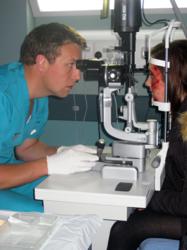 Harlow, Essex (PRWEB UK) 2 August 2012
Haag-Streit UK (HS-UK) has recently leant a BQ900 LED slit lamp to the BBC television series Casualty. Grahame Wood, HS-UK National Sales Manager, was approached by the shows props buyer for the loan of the slit lamp, required for the filming of an episode which involved a character falling over, causing grit to get into her eyes.
HS-UK was happy to help and quickly arranged for the slit lamp to be delivered to the BBC set. Martin Callaway, HS-UK Service Engineer, went to the studios to aid with the installation and breakdown of the LED slit lamp, to ensure it was ready for the film crew to utilise. Martin was also on hand to ensure that the on-screen character was correctly using the slit lamp for dramatic purposes.
Owain Williams, BBC Casualty Series Designer, said, As part of our role at BBC Casualty, the art department supply the equipment required to fulfil the demands of the script. We try to keep up-to-date with medical equipment but we have limited budgets. Using companies like Haag-Streit UK is invaluable to achieving our aim of producing high quality, cutting edge drama.
The scene where the slit lamp will appear involves actor and regular character, Oliver Coleman, who plays Tom Kent in the show checking the eyes of guest actress, Emmy Rose (see image).
Grahame Wood, HS-UK National Sales Manager, said, We were more than happy to lend this equipment to the BBC for them to film this exciting episode of Casualty. The BQ900 LED slit lamp would be the ideal piece of equipment to examine a patients eyes, if this were a real life situation, as it has world-class optics and precision mechanics.
When asked why he approached Haag-Streit UK, Owain said, We chose Haag-Streit as they were one of the market leaders. We were extremely happy with their positive response and subsequent involvement, which has allowed us to complete a very realistic medical procedure.
The weekly TV series is the longest-running emergency medical drama in the World, having broadcast its first episode in 1986. The episode, called When Love Breaks Down, was filmed at the new BBC studios in Cardiff and is due for transmission on 3rd November 2012.
For further information regarding Haag-Streit products, contact Haag-Streit UK on (01279) 414969.
Related qwe href="http://caseyalt.com/category/energy-saving-light-bulbs-info/">LED Lamps Press Releases