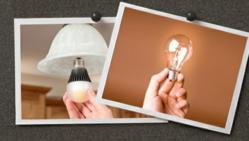 United Kingdom (PRWEB UK) 23 November 2012
The Bulb Match Service is a simple yet effective concept which makes the task of finding the right replacement LED bulb/s for a property effort free.
All a customer needs to do is email a photograph of their bulb to the team with details of the wattage and colour temperature if possible and the experts at BeamLED.com will use their knowledge to find a suitable LED replacement.
LED lighting is the next generation of home lighting technology. As well as providing a brighter light per watts, a cool heat output, shatter resistant material, a variety of colours and savings of up to 80% off the average electricity bill, LEDs can have a lifespan of 40,000 hours.
After determining which product is the best replacement for an individual, the BeamLED.com team will respond promptly with an email reply linking to their LED upgrade.
The variety of LEDs at BeamLED.com envelops a range of fittings including the GU10, MR16 and E27. Theres also LED floodlights, dimmable LEDs, decorative fittings and candle LED light among the stores departments, so theres plenty of choice.
Once customers know which LED to switch to replacing ordinary light bulbs is a simple retrofit procedure, but to give customers the maximum amount of advice and assistance, the brand has its own Ideas and Advice pages and how to videos to thoroughly explain the benefits and function of LED lighting.
Peter Lilley, Director of BeamLED.com, said: The Bulb Match Service is an excellent addition to the sites existing user friendly tools like the Energy Saving Lighting Calculator which can be found on the advice pages. This new service is yet another example of how BeamLED.com is leading the way in getting consumers to make their homes and workplaces more energy efficient. We hope this tool will prove a valuable one for all our customers.
For assistance finding the right LED for homes and businesses try the Bulb Match Service today by emailing photos to bulbmatch(at)beamled(dot)com.
More asd href="http://caseyalt.com/category/energy-saving-light-bulbs-and-the-environment/">Led Bulbs Press Releases