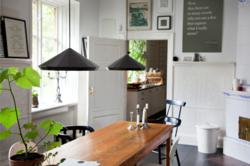 CONSHOHOCKEN, Pa. (PRWEB) April 17, 2012
IKEA, the Life Improvement Store, is launching its 7th IKEA PS collection, which puts a focus on cutting-edge Scandinavian furniture design while maintaining core IKEA values quality design at an affordable price. IKEA PS collections are launched every three years, and this year, IKEA designers drew inspiration from 60 years of IKEA design history looking through IKEA catalogues and archives to reinvent products of the past and translate them into the future by updating form, function, and materials to make them more relevant and sustainable for todays needs. The IKEA PS 2012 collection will be previewed starting today at the Salone Internazionale del Mobile (Milan Furniture Fair) and available to the public at IKEA stores in the U.S. starting August 2012.
At IKEA, we never stop looking for better ways to do things. For the IKEA PS 2012 collection, we looked at our history for inspiration, and challenged our designers to bring their designs forward with innovative products that belong in the future, said Janice Simonsen, IKEA U.S. Design Spokesperson and lead blogger for the Design by IKEA blog (http://www.theshare-space.com/Blog). And of course, we asked them to do it all with affordability, as we believe good design belongs in real homes everybodys homes.
Bright, colorful and made from a variety of materials, the IKEA PS 2012 collection, which includes items such as tables, lamps, bowls and textiles, is meant to be useful, relevant, fun and surprising. From shoe storage that doubles as seating to an insect-inspired indoor/outdoor steel easy chair to a childrens shelf that mimics a dollhouse, this collection has a bit of everything and embodies everything IKEA.
"Families with kids, people who live in small spaces, people with limited budgets there's something for everyone with this collection," says Mats Nilsson, range strategist with IKEA of Sweden. "Whether it's one piece or many, these IKEA PS products are meant to inspire people and meet their needs and desires at home."
Some examples of how IKEA PS 2012 designers improved upon, innovated and modernized past ideas include:
Form and function: