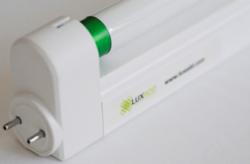 Miami, FL (PRWEB) November 29, 2011
LUXADD and the International Green Energy Council (IGEC) are joining forces to spread the word about LUXADDs technology innovation and its energy saving potential in the area of linear fluorescent lighting retrofits – just in time for the T12 Lighting Phase-out. Starting July 2012, the Department of Energy (DOE) regulations will eliminate the most common T12 tubes. The replacement of 500 million T12 tubes will save the nation more than $ 10 billion in electricity.
Fluorescent lamps have become predominant for commercial and industrial lighting because of their superior energy efficiency and longer life compared to incandescent lights. Due to poor lumen foot-candle conversion and the high price point, LED is not yet the right product for linear commercial illuminations according to the DOE (Department of Energy). Unfortunately, most installed fluorescent T12 magnetic lighting system still waste at least 50% of input energy and uselessly heat up the environment. Newer lighting technologies like the T5 fluorescent tube can save up to 80% of lighting and air-conditioning energy. But new fixtures or ballast replacements are expensive and labor intense and many Government incentives have expired.
LUXADD holds a patent on the only retrofit technology that eliminates the entire transition process and makes retrofitting as simple as changing a light bulb with just one simple SNAP. This smart and provides the highest return on investment (ROI) in the market. The LUXADD Express T5 Retrofit Kit for T12 instantly lowers the energy bill up to 80% and reduces the carbon footprint by 60%.
We are the Nations only provider of a true labor free T12 to T5 retrofit solution made in the US for the US says Katrin M. Mehler, President of LUXADD LLC. It is our goal is to create new green jobs, promote a proper sustainable supply chain and ensure on site quality control. In the IGEC and Ralph Avallone we found the perfect partner to promote our mission.
It is amazing technologies like these that can put millions of Americans back to work, save businesses amazing amounts of money and if we were only to get behind companies like LUXADD, then we could restore Americas economy retrofitting one lighting fixture at a time while creating a better environment for our children proclaimed IGEC Secretary General, Ralph Avallone.
LUXADD LLC (http://www.luxadd.com) is a leading innovator in energy efficiency and conservation. LUXADD operates out of Miami and offers the only labor free retrofit solutions in linear fluorescent lighting that are tailor-made for the US and therefore provide the highest ROI in the market. Thriving for sustainability, LUXADDs products are made in the USA in effort to create new green jobs, promote a sustainable supply chain and ensure quality control. LUXADD instantly lowers the energy bill up to 80% and reduces the carbon footprint by 60%.The LUXADD technology has been available and used in Europe since 2001.
The International Green Energy Council – IGEC is an International advocacy association comprised of individuals and companies that promote "Green" (sustainable) forms of energy production, renewable energy sources, and sustainable design practices and advanced thinking in utilizing education and information for the promotion of being better stewards of our environment. The IGEC is comprised of renewable energy companies, developers, builders, material suppliers, subcontractors, consultants, lending institutions, utilities, installers, designers, manufacturers, engineers, inspectors, consultants and others involved in and out of the "green" community. If your company is interested in becoming a partner in this amazing new collaboration or if your company wishes to become a member of the IGEC please contact the International Green Energy Council at info(at)greenenergycouncil(dot)com
# # #