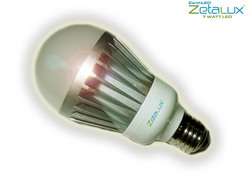 Boca Raton, FL (PRWEB) November 19, 2008
Advanced Lumonics, LLC, an early leader in the direct replacement LED light bulb market through its consumer oriented EarthLED brand announces its latest product, the EarthLED ZetaLux.
Following on the success of the EvoLux launch earlier this year, the EarthLED ZetaLux LED light bulb offers a price/performance ratio unmatched in the industry. The ZetaLux only consumes 7 watts yet offers performance comparable to a 50-60 watt light bulb. With a price of under $ 50 USD, the ZetaLux offers an unprecedented payback time of just over 2 years when operated 8 hours per day.
ZetaLux is built upon the latest LED engine technology from CREE