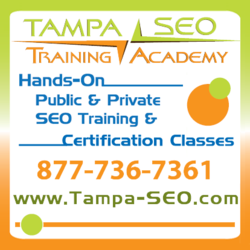 Tampa, FL (PRWEB) January 02, 2012
In celebration of their fifth year anniversary teaching students the secrets to top Search Engine rankings, The Tampa SEO Training Academy is pleased to announce a special 25% off anniversary offer on each of their SEO training courses for January.
While SEO techniques have evolved and changed over time, what hasn't changed over the last five years is the Tampa SEO Training Academy's commitment to helping others grow their businesses, expand their careers and make more money.
Steven Scott, CEO & Director of Training at The Tampa SEO Training Academy, a Licensed Associate Member of the Search Engine Academy, has been in the internet marketing business for over fifteen years. Since launching the Tampa SEO Training Academy in January of 2007, Scott has trained hundreds of students from all over the world in the best-practices (often called "white-hat techniques") needed to achieve top rankings in the search engines.
"Sharing my knowledge of the Search Engines with my students these last five years has been a wonderful experience. It's extremely rewarding seeing those 'ah-ha' moments students have in class when things just seem to click and their eyes widen," remarked Scott. "You can practically see light bulbs go off over their heads. It's even more inspiring when an excited past student calls to boast that their online sales have doubled as a result of what they learned sitting in my classroom. That really makes it all worthwhile."
Scott's Tampa SEO Training Academy offers participants a "2-Day Basic Essentials" course, a "3-Day Advanced Techniques" course and a "5-Day SEO Mastery" course. Courses are designed for anyone interested in understanding the tools and techniques required to get top search rankings – from business owners and entrepreneurs, to sales and marketing managers, to web designers and SEO professionals.
Scott insists that participants do not have to be web developers or programmers to understand and implement the course material. "When you get right down to it, these are marketing courses," said Scott. "If you happen to know HTML or are a web developer, you'll certainly take away ideas from a different perspective. However, anyone interested in marketing their business on the web will return to work filled with the know-how needed to get the job done."
Each SEO Training class is capped at just 10 attendees to ensure students get the individual instruction and hands-on attention necessary to leave class with actionable next steps for improving their website. "For some students, the week they spend with me can be a life altering event," Scott said. "Many participants head home at the end of class filled with new found enthusiasm, energy and great ideas that they can't wait to get started on," noted Scott.
Participants may also opt to obtain their SEO Certification. If they achieve a passing grade on the subsequent test, students are awarded a Certification of Skills in SEO and may display the awarded Search Engine Academy SEO Certification Seal anywhere they choose. Attendee's may also elect to earn Continuing Education Units (CEU's) for the training. In addition, every participant receives six months of ongoing mentoring from the Tampa SEO Training Academy. The availability of CEUs and the six-month mentoring programs are perks offered by no other SEO training program in the US.
For more information on class dates and pricing or to register for any of their scheduled SEO Training courses in 2012, visit the Tampa SEO Training Academy's Registration page. Enter promo code "5YRANNIV" at checkout to take advantage of the Five Year Anniversary Pricing and save 25% on your enrollment. This special price applies only to the January 2012 Courses.
About the Tampa SEO Training Academy

Steven Scott is the CEO & Director of Training at the Tampa SEO Training Academy. He has been a Certified Master SEO Educator with the Search Engine Academy since 2006 and has been training and consulting with Fortune 1000 companies for over 20 years. Steve has taught SEO skills to people from around the world and currently offers hands-on search engine optimization training workshops in Tampa to individuals and businesses of all sizes. Corporate and Group SEO training classes and consulting are also available. For more information about Steve or the Tampa SEO Training Academy, visit http://www.tampa-seo.com or call 877-736-7361.
About the Search Engine Academy

The Search Engine Academy has been offering SEO Training and Certification to participants from all over the world for 10 years. Thousands of people have been taught to utilized their proven six-step system and have seen the results for themselves, over and over again. For more information about the Search Engine Academy, visit http://www.searchengineacademy.com.
###