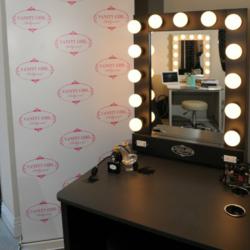 Tampa, Florida (PRWEB) November 11, 2011
When it comes to Hollywood, and any tourist/entertainment focused city for that matter, the production teams literally run the show. One often-overlooked position is the Production Manager that makes sure that every event and guest experience goes off without a hitch.
When L.R. , a Production Manager for a major theme park in Florida, was tasked with building a separate dressing room for one of their child performers, he turned to Vanity Girl Hollywood (VGH) to establish one of the key elements in the room the lighted makeup vanity desk.
Its a good no-nonsense, one-stop solution, he explains. Everything comes in a box and I can just pop it together and plug it in.
We are thrilled that production people come to us for their special event, on-set and green room needs, says founder Maxine Tatlonghari. This is a highly demanding customer and we are proud that our manufacturing often exceeds their expectations.
Things to when choosing a dressing room vanity:
1.