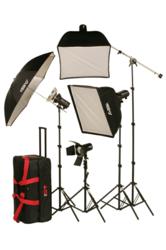 Bartlett, IL (PRWEB) July 26, 2011
Smith-Victor, a leading manufacturer of photographic lighting equipment and accessories, is unveiling a full line of new photo and video lighting kits to address the changing trends in the imaging industry. These latest kits represent the next generation of the Smith-Victor line and will help simplify product choices for both dealers and consumers. The kits will be available this month.

The mass appeal of DSLR cameras is spreading among family memory keepers and other types of photographers, and is no longer just within the domain of the pro or pro-sumer. These new users are creating a substantial investment opportunity in aftermarket DSLR accessory sales, said Bob Higgins, sales and marketing manager of Promark International, manufacturer of Smith-Victor products. Our new lighting kits give camera dealers comprehensive offerings from both a product and an inventory standpoint. Each kit is designed for specific imaging applications and will help take the guesswork out for the consumer looking for lighting equipment and for the dealer that is stocking it, he pointed out.

The new Smith-Victor kits include the FlashLite 110i, FlashLite Monolight and Quartz Halogen series. Each kit was specifically designed to meet current photographers photo or video lighting needs. The FlashLite 110i kits are ideal for the photographer who has just purchased their first DSLR. We have great products where a beginner can start with an entry level system and then develop with that system, adding accessories as their shooting skills grow, Higgins said.
FlashLite 110i Kits

There are three new kits in the FlashLite 110i series which are designed for beginners and advanced amateurs alike. The FlashLite 110i is a 110 watt-second variable power AC monolight with 60-watt quartz halogen modeling lamp. The strobe light features a test button, ready light and optical slave for wireless triggering. Smith-Victor's FlashLite 110i kits include a light stand, mount and sync cord.
The FlashLite 110i kits include: