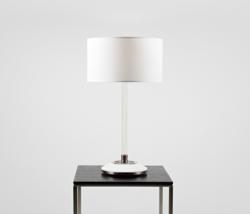 Las Vegas, NV (PRWEB) October 03, 2012
Radast Design, LLC, creator of cutting edge lighting applications, is excited to announce the LightDrive table lamp.
The engineers at Radast Design were convinced there was a better way to use LED lighting for the home. Their groundbreaking product is the LightDrive table lamp.
With LightDrive, a high output LED module is housed in the base of the lamp. Using a specially designed optical waveguide, which works the same way as fiber optics, light is transferred to the top of the lamp where it softly scattered into the room. The heat of the LEDs is safely and effectively dissipated within the base of the lamp.
Steven Peltier, Radast Design co-founder explains, we literally turned the design of the lamp on its head. By placing the light source in the base, we not only solved how to safely control heat, we also opened up a whole new world of possibilities in lighting design.
The lamp features a luxurious design that delivers bright light in a pleasing warm-white color. The LightDrive table lamp uses only 13 Watts, is completely maintenance free, employs earth friendly materials, and has no exposed hot surfaces. Since the LightDrive LEDs are run at an optimum temperature, they are expected to last their rated lifetime of well beyond 15 years.
The product is a result of two years of prototyping and has been engineered with close attention to detail. Precision-machined aircraft grade aluminum is balanced by optical grade glass and sculpted wood bases finished in durable, multi-layered automotive paint and clear coat. The clean and contemporary design uses bold colors and nickel-plating to complement todays most fashionable interiors.
The lamp is available on Kickstarter in Arctic Pearl white and Ebony Pearl black finishes for an introductory pledge of $ 450 with further options available, including the ability to customize the lamp with the backers choice of color and shade.
About Radast Design: Radast Design, LLC [pronounced ruh-dast, http://www.radastdesign.com is a specialized US small business founded in 2011 by three Gen-Xers, each with a passion for industrial design and a professional background rooted in high technology research and development. Radast Design produces cutting edge lighting applications that showcase a commitment to precision engineering and the use of top quality materials.
The companys signature innovation is the patent-pending LightDrive light engine, which is featured in its first commercial offering, the LightDrive Table Lamp. Radast Design was conceived when three friends, Raj, Dave, and Steve, decided over lunch to improve upon the use of LEDs to light the home. The philosophy that inspired them endures today: To create lighting concepts that exude quality and performance, a clean, timeless styling with an innovative edge, and an intelligent use of technology that is both enabling and efficient to deliver long term reliability.
Find More qwe href="http://caseyalt.com/category/energy-saving-light-bulbs-info/">LED Lamps Press Releases