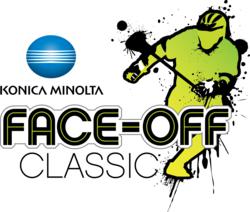 Ramsey, N.J. and Baltimore, Md. (PRWEB) March 08, 2012
Over the last six years, Inside Lacrosse has set the standard for promoting lacrosse with events such as the Konica Minolta Face-Off Classic (Title sponsor: Konica Minolta Business Solutions U.S.A., Inc.). This early season event has attracted more than 93,000 fans in its five-year history and has been a showcase for elite names in college lacrosse, often serving as a preview of the NCAA Championships. Four of the last five national champions have started their season in the Face-Off Classic: Johns Hopkins in 2007, Syracuse in 2008, Duke in 2010 and Virginia in 2011.
Lacrosse fans circle the date for the Konica Minolta Face-Off Classic on their calendars each year. This year's Face-Off Classic is set for Saturday, March 10 at M&T Bank Stadium in Baltimore with a game lineup that once again pits the top teams in college lacrosse against each other. Four of the six participating teams are ranked in the top 10 of the current Nike/Inside Lacrosse media poll, including the No. 1, No. 2 and No. 3 teams featuring in the event.
2012 Konica Minolta Face-Off Classic

(Saturday, March 10 at M&T Bank Stadium)

Game No. 1 No. 14 Princeton vs No. 8 North Carolina (11:00 a.m.)

Game No. 2 No. 1 Virginia vs No. 3 Cornell (1:30 p.m.)

Game No. 3 No. 2 Johns Hopkins vs UMBC (4:00 p.m.)

All times Eastern
Games No. 1 and No. 2 will air on ESPNU, while fans can watch Game No. 3 on ESPN3.com.
The first of two Ivy League-ACC match-ups has Princeton facing North Carolina. Over the past few years perhaps no team in college lacrosse has assembled as much young talent as North Carolina. Much is expected of a Tar Heel team that will be hungry to make a statement of its own while making the programs first appearance in the event. Last season, the Tigers were hit hard by injuries and finished the year with a losing record for only the second time in over two decades. Led by a veteran defensive unit, Princeton is ready to use the Face-Off Classic to announce a return to the national spotlight.
The second game features a heavyweight match-up of top contenders for the 2012 NCAA title. Virginias 2011 season was a rollercoaster ride that culminated in a fifth NCAA title for the Cavaliers. Included on that ride were wins over Cornell in the Face-Off Classic (11-9) and the NCAA Quarterfinals (13-9). Both teams return balanced lineups with the necessary experience to navigate the ups and downs of a championship journey.
The third game is a local Baltimore rivalry between Johns Hopkins and UMBC. The Blue Jays welcome back talent and depth in virtually every position. Appearing in the NCAA Quarterfinals a year ago, Hopkins is on everyones preseason shortlist of national title contenders. On the flip side, the Retrievers have endured their fair share of growing pains the last two years. UMBC will be anxious to show that those hard earned lessons have paid off and push for a post-season trip.
Tickets can be purchased for the 2012 Konica Minolta Face-Off Classic. Ticket prices are: $ 35 for Club Level seats; $ 22 for Lower Level reserved seats; $ 18 for groups of 10 or more; and $ 12 for groups of 100 or more. Parking can also be purchased in advance for $ 15. All seating locations are reserved.
Lacrosse fans interested in ticket information can call the Baltimore Ravens box office at 410.261.RAVE. In addition to the Ravens box office, fans can purchase through Ticketmaster online at Ticketmaster.com or by phone at 800.745.3000. Fans can also visit FaceOffClassic.com to check the schedule and details on ordering tickets.
This is a great lineup with the top three teams in the nation playing in the event, stated Andy Bilello, Associate Publisher for Inside Lacrosse and the events director. The first game welcomes back Princeton, an original Face-Off Classic participant facing a newcomer in North Carolina. The second game between top-ranked Virginia and No. 3 Cornell could easily be a preview of the national title game. Then, the day concludes with No. 2 ranked Johns Hopkins being challenged by UMBC. Its an exciting group of teams getting an opportunity to play on a big stage.
The event often raises the level of play for all teams involved. In the last five years, we have seen five games go to overtime and nine games overall decided by three goals or less. We expect more thrilling finishes on March 10, continued Bilello.
2012 Nike/Inside Lacrosse Media Poll (week of March 5)

(Bold indicates team is a 2012 Konica Minolta Face-Off Classic participant)

1.